Browse for audio by
Navigation
Línea Abierta : NEW RULES CUT MERCURY POLLUTION. ALSO, IRAQ TROOP WITHDRAWAL
Thu, 12/29/2011 - 15:00 — sshakir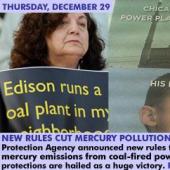 Title: NEW RULES CUT MERCURY POLLUTION. ALSO, IRAQ TROOP WITHDRAWAL
Guest: Kim Wasserman-Nieto
Additional Guests: Ángel Zúñiga
Host: Samuel Orozco
Date: THURSDAY, DECEMBER 29, 2011
Description: NEW RULES CUT MERCURY POLLUTION. The U.S. Environmental Protection Agency announced new rules that would cut over 90% of mercury emissions from coal-fired power plants.
Genre: News
Location: Oakland, CA
Program Number: 6570
Producer: Samuel Orozco
Progam Number: 6570
Publisher: Radio Bilingüe
Rights: Creative Commons Attribution-Noncommercial 3.0 United States License
Subject: Environment, Politics
Year: 2011
Program Name: la_111229.mp3
Length: 59:11 minutes (54.19 MB)
Format: Mono 44kHz 128Kbps (CBR)
NEW RULES CUT MERCURY POLLUTION. The U.S. Environmental Protection Agency announced new rules that would cut over 90% of mercury emissions from coal-fired power plants. The landmark protections are hailed by environmental groups as a huge victory, especially because mercury is known to harm the nervous systems of children. The toxic metal has been found at higher levels in Latino children. A mother and activist that has long fought power plant pollution in her Chicago neighborhood joins this edition to discuss the news.
Guest: Kim Wasserman-Nieto, Director, Little Village Environmental Justice Organization, Chicago, IL, http://lvejo.org/
ALSO, IRAQ TROOP WITHDRAWAL. The last U.S. soldiers left Iraq this month, marking the end of a nine-year war. What are the consequences of the long occupation of Iraq for veterans and their families? What new battles are veterans waging at home? What is the political forecast for Iraq? A top leader of Latino veterans comment on these and other questions.
Guest: Ángel Zúñiga, National Vice Commander, American G.I. Forum, Corpus Christi, TX.